The Medical Clinic at RYSE – An Ohana Zones Project
Posted on Aug 12, 2020 in News, Success Stories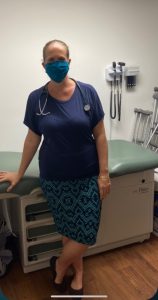 Did you know that Residential Youth Services & Empowerment (RYSE) has a medical clinic on its Kailua campus? It specializes in adolescent health care, with linkages to family planning, behavioral health and substance abuse treatment. It also offers COVID-19 testing, tuberculosis screenings and pre-employment physicals.
"RYSE clinic plays an essential role in empowering these young adults at this particularly vulnerable time in their lives," said Ava Jenkins, the Advanced Practice Registered Nurse (APRN) at RYSE. "They are all transitioning from pediatrics to adult health, many have a history of inadequate medical care as children, and some are developing symptoms of mental and physical illness.
"This is a crucial time to develop greater education of personal health and build a relationship of trust and comfort with medical providers. With a good foundation, these young adults can build their lives in better health and wellness."
The entire clinic was funded through the three-year $1.8 million Ohana Zones contract RYSE received from the State through Act 209. The Ohana Zone funding also enabled RYSE to increase the number of its beds to 30, expand its outreach services, and add certified substance abuse counselors.
RYSE is a 501(c)(3) that operates an access center where Hawaii's street youth are assessed and referred to appropriate support services. Youth 18 to 24 have access to a safe living space specifically designed to address their unique needs. The access center offers coordinated programs and services that aim toward reintegration into mainstream society.