New Beginnings at Hale Maluhia – An Ohana Zones Project
Posted on Aug 25, 2020 in Main, Success Stories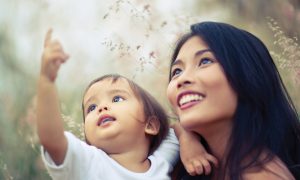 About four years ago, "Anna" met a man online who "was very kind" to her. They struck up a long-distance relationship in which they chatted by video several times a day. Anna, who has a young son from her ex-husband, decided to come to Hawaii to visit the boyfriend because she figure that if he and her son got along well, then they could be married.
At first, the boyfriend took care of Anna's son by teaching him English, and he kept reassuring Anna about marriage by promising it will happen.
However, when Anna's visa expired, the boyfriend's attitude slowly began to change. He started abusing both Anna and her son, first verbally, then physically. His phone was constantly ringing, and Anna wondered if he was hiding something. She began checking his phone and noticed that he was talking with many different women. Then one night Anna's boyfriend saw her touching his phone and punched her in the face. She wanted to report the abuse to police, but she was afraid to because she thought the police would separate her and her son.
Anna's boyfriend would constantly seek forgiveness and she kept forgiving him, but things never got better. In fact, the abuse escalated. He called her stupid, weird, fat and ugly, and he called her son retarded and stupid. She felt like she was the problem and she said it was making her crazy.
One day, Anna's boyfriend caught her looking at his phone again. He choked her and threatened to kill her. She tried to escape, but she could not. The next day, Anna's neighbor noticed her bruises and asked what happened. When Anna replied, her neighbor told her to call the police. Anna did, and her boyfriend was arrested and jailed for a few days.
But that wasn't the end of her problems. Her boyfriend also owed thousands of dollars in unpaid rent, and before the court date for the case involving her boyfriend, they were all evicted. However, the Prosecutor's Office helped Anna and her son get into an emergency DV shelter. Legal Aid was helping Anna with getting a visa, but she didn't know how long it would take and everything felt impossible.
That's when Lydia Pavon of the Domestic Violence Action Center helped get Anna and her son into Hale Maluhia, where Pavon was the manager. Anna immediately noticed that Hale Maluhia was safe, and even though she and her son did not have much money, she says they had everything they needed.
Four months after moving in to Hale Maluhia, their lives are more stable and they have adjusted to their surroundings. Anna's immediate goal is to get a job and save money to get a car. She is deeply grateful to the staff at Hale Maluhia for their support and love, adding that, "if we didn't find this place, I have no idea what I would do."
Meanwhile, Anna's son has started playing basketball and now has a tablet to do his homework and online research. Pavon says Anna's son is kind, respectful and — most importantly — happy. "You can see the faces of the children here, how they've transformed," Pavon says.
For others experiencing the same abuse she experienced, Anna has this advice: Don't be afraid of the police. She says she was afraid to call them because she feared deportation. Instead, she says the police were really helpful and were not concerned with her immigration status. They only wanted to know what was wrong.
However, Anna has just begun her recovery. Pavon says the common link among DV survivors is trauma, even if they're already out of the abusive relationship. To that end, Anna says she still experiences occasional nightmares and speaks with a volunteer counselor about her traumatic experiences. Nonetheless, she is focused on securing a better future for herself and her son.
"I'm not afraid of the abuse anymore," Anna says.