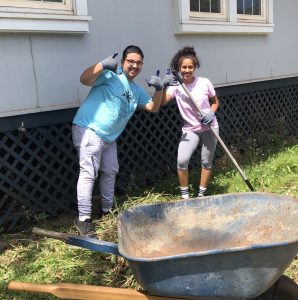 The Haleiwa Project came about because it simply made sense to its partners: Alternative Structures International (ASI)/Kahumana, Residential Youth Services & Empowerment (RYSE), and ALEA Bridge.
RYSE became involved because the former occupant of the property (Central Oahu Youth Services Association) and the Haleiwa community wanted the site to continue to serve youth. Meanwhile, ASI/Kahumana and RYSE had built a partnership through the Youth Rapid Rehousing Collaborative. Separately, thanks to State Ohana Zone funding, RYSE had partnered with ALEA Bridge to provide street outreach to youths in Central Oahu and on the North Shore. Because of its community ties in Haleiwa, ALEA Bridge was a perfect partner and property manager for the Haleiwa Project.
"The Haleiwa Project is a great example of how the sum of collaboration is greater then the individual parts: ASI brought its experience in Rapid Rehousing and managing city owned affordable rental properties, RYSE brought its focus and expertise on homeless youth, and ALEA Bridge brought its outreach team and regional presence in Wahiawa and the North Shore," said Tom McDonald of ASI/Kahumana. "Working together, our three agencies ensure success and heightened housing and employment outcomes for youth experiencing homelessness in Haleiwa and surrounding areas."
The project's first tenants — a young mom and her baby — moved in at the end of May. At full capacity, the youth affordable housing project will provide affordable housing to 15 total youth and young families in three houses. Currently, four youth and a child live in House #1 and another four youth have been assigned and are moving into House #3.
"The quickest and most effective way to end youth homelessness is to provide safe, supportive and affordable housing options for young people," said Carla Houser, the executive director of RYSE. "The Haleiwa Project does just that, and our Youth Housing Collaborative looks forward to similar projects in the future."
In terms of support services, RYSE provides case management to all the residents at the Haleiwa Project. For the residents that come into the project with a housing voucher, the agency holding the voucher also offers case management support to the resident. For all other needs and support, the project has a full-time site coordinator who is there to ensure that the residents have everything they need to be successful and safe. The coordinator also teaches tenancy skills, connects youth to behavioral health and education/employment services, and maintains the property and security.
"This housing project with case management and wraparound support is the first step on a path to security, sustainability and independence," said Nicky Winter, executive director of ALEA Bridge. "The Haleiwa Project offers so much more than just housing; it offers hope and the promise of a brighter future."
The program is funded by housing subsidies and rent paid by the youth. At full capacity, the Haleiwa Project will be a self-sustaining program where all revenue from tenants will be put directly back into the project to cover any expenses generated.
Thank you to RYSE, ASI and ALEA Bridge for your collaborative efforts!