State Libraries Expand Homeless Partnership
Posted on Oct 22, 2019 in News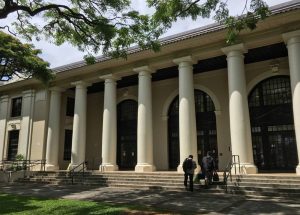 Since March 2019, social work student Helana Kama has provided social services at the State Library's main branch downtown, linking homeless individuals to shelter, hygiene services, substance abuse treatment, and housing. The services are the result of a new partnership between the State Library, the office of the Governor's Coordinator on Homelessness, and the University of Hawaii Myron B. Thompson School of Social Work to increase access to help for library patrons.
The partnership is one example of the State's emphasis on the human services aspect of its framework to address homelessness – bringing housing-focused services to locations where homeless individuals regularly gather. In addition to connecting with outreach workers, Helena regularly partners with other government agencies, such as the Honolulu Police Department, which assist in providing transportation to shelter for homeless individuals.
A typical day for Helena includes making her rounds in the library rotunda and engaging individuals in need of services. Recently, Helena encountered an elderly male who had been homeless for four months. After a few short phone calls, Helena facilitated a placement into Hale Mauliola, a shelter on Sand Island operated by the Institute for Human Services (I.H.S.). The next day, a HPD officer transported the man to shelter and called Helena to let her know he was successfully admitted. "It felt great," said Helena, "because I was there for him from beginning until end."
Beyond just making connections to shelter, Helena also spends her days assisting veterans with housing search, sharing information about how individuals can apply for State benefits, and sharing information about where a homeless individual can receive mail. "With this population, my eyes are wide open," said Helena. Each day is unique and beyond providing services for the homeless, the experience is also providing Helena with training for a future career in social work following her graduation next year.
The partnership with the State Library and School of Social Work is just one of many similar efforts aimed at increasing access to shelter and other services for people experiencing homelessness. In addition to the library effort, partnerships with HPD, Department of Transportation and the Department of Land and Natural Resources resulted in over-400 homeless individuals being connected from State lands to shelter and other placements in 2018. To learn more about State efforts to address homelessness and to read the State Framework to Address Homelessness, visit https://homelessness.hawaii.gov.