Reunification Story – Calvin in Waikiki
Posted on Jan 29, 2021 in Success Stories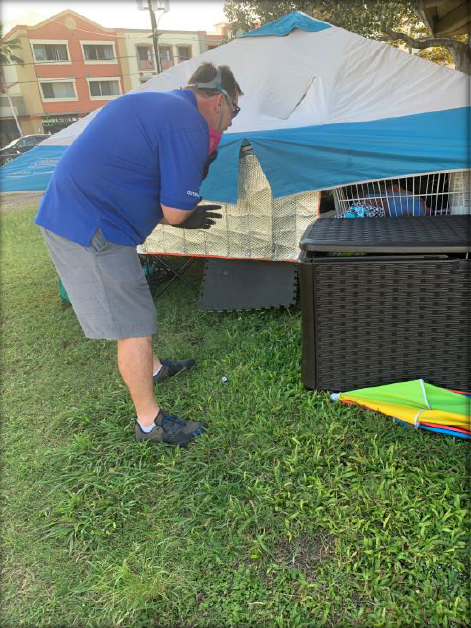 The Office of the Governor's Coordinator on Homelessness frequently receives messages from individuals who are concerned about family members or friends who may have become homeless while living in Hawaii. Our office is usually contacted as a last resort, after months – sometimes years – of unsuccessful attempts to reach their loved ones. When we receive these requests for assistance, we work closely with our outreach providers to offer an opportunity for people experiencing homelessness to reconnect with their support network.
"Calvin," a 55-year-old homeless individual who suffers from physical and mental health issues, came to Oahu for a fresh start with his girlfriend. He receives income benefits due to his health problems, but he soon found himself sleeping on the streets of Waikiki after leaving the relationship. With insufficient income and no support system, he was unable to afford a room. At the time, Calvin was struggling with substance abuse which worsened his physical and mental health.
Worried about their father living on the streets during the COVID-19 pandemic, Calvin's daughters reached out to our office for information about programs that might be familiar with Calvin. Upon hearing that Calvin was in Waikiki, our staff immediately contacted the outreach team from the Institute for Human Services – Justin and Kiko — who knew Calvin by name and were able to engage him the next day. Thanks to the homeless outreach department's efforts, I.H.S' Family Reunification Program successfully connected Calvin with his daughters on the mainland. It was a difficult conversation with lots of emotion, but Calvin was grateful for the opportunity to return to the mainland to live with his family.
Calvin is one example of the many types of referrals that we receive, and his reunification with his family is an excellent example of how our homeless services system works collaboratively to assist society's most vulnerable members. Our office will continue to do our best to help people get the assistance they need.