Success Stories – Transitions Out of Homelessness
Posted on Nov 3, 2015 in News, Success Stories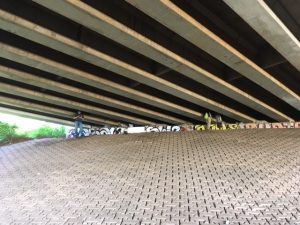 The following stories were collected from homeless service providers throughout the year, and reflect the collaboration and partnership necessary to address and end homelessness as a community.  
"Jane" is 22 years old and the head of household for a local family, which includes Jane and her two younger sisters.  Catholic Charities Hawai'i Intake Specialist Roddy first encountered Jane nine years ago, and at the time Jane – who was 12 years old – was tasked to assume the role of part-time caretaker for her sisters in addition to juggling adolescence and homelessness with middle school responsibilities.  Since that initial interaction, Jane's parents' continued difficulties with satisfying legal conditions related to their homelessness and substance use, often resulting in situations of neglect and abandonment.  Eventually Roddy lost track of this family, only to meet up with them recently at the State's new Family Assessment Center.  With help from providers, including Catholic Charities Hawai'i, Hale Kipa's Youth Outreach (YO!), the Institute for Human Services (I.H.S.), the Hawai'i Department of Education, and Housing Solutions, Jane and her two sisters were able to break the cycle of homelessness and find a permanent housing placement.  Community and collaborative approaches, such as these, were not only critical but really the only way to consider this placement a success.   Submitted by Catholic Charities Hawai'i, Family Assessment Center.
Joe and Sue are a young couple who came to Family Life Center on Maui for emergency shelter services.  Sue was expecting the couple's fourth child, and gave birth while still at the emergency shelter.   The family also included three other children who were in the custody of Child Welfare Services.  Family Life Center found a one bedroom apartment for the family, and assisted them in connecting to the Catholic Charities Hawai'i Housing Placement Program for a security deposit and to the Hawaii Public Housing Authority's Rent Supplement program for a shallow subsidy.  Today, Joe is employed at a job that allows the family to sustain rent payments without any outside support.  The couple has now regained custody of their three other children, and the family is now flourishing.  Submitted by Family Life Center.  
Angela came to Hawai'i with her two young children thinking they would start a new life.  The original plan was to stay with a friend for a few months, work, save money, and then get their own apartment.  A single mother, Angela found the arrangement ideal, but when the relationship fell through in a matter of a few weeks, she and her two young children were homeless by November 2016.  Angela and her family were at a dead end.  The Salvation Army Family Services Office staff met with Angela and assisted her by providing food, toys for her children, and tickets to return to the mainland provided by a local donor.  Upon arriving in Phoenix, Arizona, Angela received a message that her estranged son was in town from deployment.  Angela and her son have since reunited and are working on their relationship.  Angela and her two young children are fine, now living in Phoenix, and were able to spend Christmas together as a family.   The children are in school, and Angela has found a job.  She stays in touch with The Salvation Army staff and is very thankful for the blessings of family reunification and hope rekindled.  Submitted by The Salvation Army, Family Services Office.
Two men had been homeless for the past 14 years, living on the slopes of Diamond Head in East Honolulu.  Both men had lost their jobs, and could not afford to rent a place of their own.  Mr. S and Mr. C are both seniors, over 60 years old, and received income only from Social Security and food stamps.  The two men were encountered during outreach by staff of the Governor's Coordinator on Homelessness and the Department of Land and Natural Resources (DLNR) and were connected with Catholic Charities Hawai'i for housing assistance.  Through a collaborative effort between the Hawaii Public Housing Authority's Rent Supplement Program and the Catholic Charities Hawai'i Housing Assistance Program, the two men moved into a two bedroom unit at Hale Pauahi.  In addition to assisting with housing and rent, Catholic Charities Hawai'i staff also assisted the men in obtaining their birth certificates and social security cards, which were necessary documents to qualify for assistance from the Rent Supplement Program.   Submitted by the Governor's Coordinator on Homelessness and DLNR.
Jack is a 76 year old veteran who lost his long-term rental on Maui and became homeless when the property owner informed him that the house was going up for sale.  The news was devastating to Jack and he soon found himself homeless for the first time in his life while also battling cancer and undergoing regular treatment for chemotherapy.  Fortunately, Jack entered the Ka Hale A Ke Ola shelter program and received help from a Housing Navigator to apply for veteran's benefits.  Soon after connecting with the Housing Navigator, Jack was informed that he qualified for a HUD VASH voucher and soon moved into a subsidized rental unit – only five months after he had found himself homeless and first contacted Ka Hale A Ke Ola for help.  Jack has retained his housing since November 2017 and remains stably housed today.  Submitted by Ka Hale A Ke Ola.  
Stanley had been living on the beach in Waianae for over three years when he came to the Legal Aid Society of Hawai'i for help with obtaining Social Security benefits.  Over the course of two years, Legal Aid helped Stanley with appeals and obtaining medical records.  Eventually he was awarded SSDI and SSI benefits by an administrative law judge.  After obtaining increased and stable income, Stanley qualified for help from the Shelter Plus Care program.  He is now housed and is extremely happy to be living in a nice condominium in Makaha.  In addition, Stanley now volunteers for the food bank and cannot believe how much his luck has changed.   He recently came back to Legal Aid to enthusiastically thank the staff, and even invited them to his birthday party.  Submitted by Legal Aid Society of Hawai'i.
Kale, a chronically homeless single male with no family in Hawai'i, was living on the streets of Hilo prior to entering a residential treatment program.  He was then referred to the Steadfast Housing Hale Ulu Pono Semi-Independent Living program through the Coordinated Entry System.  He was in his new home only a few months before relapsing on alcohol and finding himself at risk of losing his housing.  Steadfast Housing partnered together with a case manager from HOPE Services Hawai'i and provided Kale with support and encouragement to maintain his housing.  Ultimately, Kale decided to enter substance abuse treatment and, since his return, is a contributing member of the housing program and has maintained sobriety.  By allowing Kale the opportunity to keep his housing based on the Housing First model, Kale is now stably housed and is a model resident.  Submitted by Steadfast Housing Development Corporation.  
Andre found himself homeless after couch surfing with friends, and moved in to Housing Solutions Na Kolea in March 2017.  At the time, Andre had no job, no income, and was struggling to make ends meet.  Na Kolea provided Andre with stable housing, and he was soon able to find employment as a security guard.  Housing Solutions staff also assisted Andre with financial literacy and housing readiness classes.  In November 2017, Andre moved out of Na Kolea and into his own apartment rental.  During his time at Na Kolea, Andre tried his best to help everyone he came into contact with.  Today, Andre remains housed, but continues to visit Na Kolea, and recently saved up money to purchase his own car.  Andre is grateful to the staff of Housing Solutions and Na Kolea for giving him a chance and lending a helping hand.  Submitted by Housing Solutions.