Huliau Affordable Housing for Homeless Families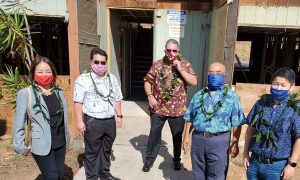 The Huliau project will provide 12 two-bedroom units that will be utilized as long-term rental housing (permanent housing) for families with minor children transitioning out of homelessness.   The project is currently under construction with completion anticipated at the end of March 2021, and opening scheduled for early April 2021.   The County has selected Hale Mahaolu as the property manager, and Family Life Center as the on-site case management provider.
Ohana Zone funds will pay for on-site property management, case management, wraparound services and security services.  In addition, State funding from the Hawaii Housing Finance and Development Corporation (HHFDC) Dwelling Unit Revolving Fund was used to support construction and planning.
The name Huliau is Hawaiian for "a turning point, a time of change."  The project will be administered by the County of Maui Department of Housing and Human Concerns Homeless Programs Division, and is located at the site of the old Maui College dorms in Kahului.