Kealaula on Pua Loke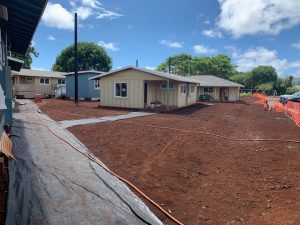 Kealaula on Pua Loke is a long-term rental housing project for families transitioning out of homelessness and consists of a total of 29 units, as well as laundry facilities and an on-site office for supportive services.   The project completed construction in November 2020, and officially opened in December 2020.
The name Kealaula is Hawaiian for "a community's brightened path, a glowing or gleaming light out of darkness."  The project will be administered by the Kauai County Housing Agency and on-site services will be provided by Women in Need.   A groundbreaking for the project was held in February 2020.
State Ohana Zone funds support construction, infrastructure improvements and the delivery of on-site services for the project.  In addition to services directly supported by Ohana Zone funds, the project intends to offer services to families in collaboration with other local Kauai provider organizations, such as Malama Pono, Family Life Center, Hale Opio, Kauai Community Alliance, Kauai Economic Opportunity and Catholic Charities Hawaii.
To learn more about the financing and design of Kealaula at Pua Loke, please check out the presentation below from the November 2020 Virtual Statewide Homeless Awareness Conference with Kauai County Housing Agency Director Adam Roversi (section on Kealaua at Pua Loke begins at the 20 minute mark):
The photos below show the status of Kealaula on Pua Loke as of August 13, 2020 (prior to project completion):