Outreach Provider Meetings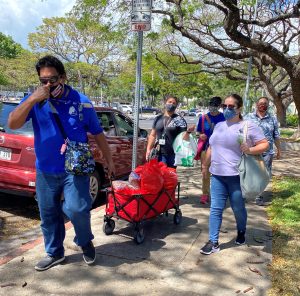 Oahu Outreach Provider Meetings
The staff of the Governor's Coordinator on Homelessness convenes regular frontline outreach provider meetings twice a month, typically on Thursdays.   The notes and presentation materials from meetings convened in 2021 are provided below.   To participate in the outreach provider meetings, or to be added to the e-mail distribution list, please contact Community Development Specialist Emma Grochowsky at 808-208-5355 or by e-mail at [email protected].  In addition to the minutes and materials below, please check out the Monthly Webinars for other regular updates and information relevant to homeless service providers, as well as our pages specific to COVID-19 Resources, Eviction Resources, and Identification and Other Vital Documents.
Previous Years Meeting Notes:
Current (2022) Meeting Notes:
Thursday, January 13, 2022
Topics:  Oahu Point in Time count updates; DOH Stabilization Bed Updates; United Health Care Justice Liaison Program; General provider updates.
Minutes, DOH Stabilization Bed Presentation, Oahu PIT Count Volunteer Registration, Partners in Care – Oahu PIT Count Information

Thursday, January 27, 2022


Topics:

 VITA Free Tax Prep Assistance; Mana`olana Program for Trafficking; General provider updates.
Minutes, 2022 Hawaii Tax Prep VITA Site List, Mana`olana Referral Form, 2022 Mana`olana Brochure
Thursday, February 10, 2022


Topics:

  2022 PIT Count Updates; DOE Family Housing Navigation Services RFI; HONU updates and transition; I.H.S. Emergency Shelter Updates; Legal Aid and I.H.S. Birth Certificate Assistance; General provider updates.
Minutes, Legal Aid Statewide Expedited Hawaii Birth Certificate Request, DOE Housing Navigation Services RFI, IHS Emergency Referral PDF Form, HONU Referral Guidelines for Providers 
Thursday, February 24, 2022


Topics:

  Expansion of City CORE program; DOH-AMHD Behavioral Health crisis services; DHS SNAP/Financial Assistance program updates; Update on Ready to Learn school supplies program; Other government agency and provider updates.
Minutes, AMHD Crisis Services presentation, SNAP Financial Processing Centers Restart In-Person Services, SNAP Statewide Office info (updated 02-23-22), Follow up to Q&A regarding DHS SNAP and Financial applications
Thursday, March 10, 2022
**Meeting canceled due to Oahu Point in Time Count**
Thursday, March 24, 2022


Topics:

  Shelter Diversion Overview and Updates; Other government agency and provider updates.
Minutes, Recording of Meeting and Presentation, IHS Diversion from Shelter for Individuals, Family Promise Diversion Presentation, Family Promise Shelter Diversion Question Template
Thursday, April 14, 2022


Topics:

  HDOT Strategies to reduce traffic accidents involving people experiencing homelessness; Preventing opioid-related overdoses with Naloxone; Substance use trends; Other government agency and provider updates.
Minutes, Opioid OD and Naloxone Information for Outreach, Substance Use Trends
Thursday, April 28, 2022


Topics:

  SNAP Employment & Training and TANF First-to-Work; City & County of Honolulu Rent to Work; Other government agency and provider updates.
Minutes, E&T and FTW Presentation, City & County of Honolulu Rent-to-Work
Thursday, May 12, 2022


Topics:

  Introductions from Hawaii Pacific Health (HPH) social work team; Update on Homelessness Prevent and Diversion efforts; Other government agency and provider updates.
Minutes, Partners in Care Homelessness Prevention & Diversion Five-part Series
Thursday, May 26, 2022


Topics: 

 Updates on the HONU program changes; VA presentation on Case Management and Transitional Housing funding opportunity;  Other government agency and provider updates.
Minutes, Mental Health Kokua Peer Coaching Flyer
Thursday, June 9, 2022


Topics:

  Discussion regarding access points for City Emergency Housing Voucher program and at-risk households; VA employment program  updates; Other government agency and provider updates.
Minutes; Information about Oahu Emergency Housing Vouchers